Kingdoms are the different realms in which players can choose to set their castle area (aka City). Only Cities registered in the last five days with a Stronghold level less than 6 may change Kingdom! There are currently +300 kingdoms live.
In the center of every kingdom is a Castle on an island with four towers surrounding it on the edges of the lake. Inside the Castle is a Throne that can be fought over in an all Kingdom War. There, players can fight to become leaders of the entire kingdom. The current wait period when a new kingdom is live is +65 days before anyone can take the throne. The winning alliance's players can choose their kingdom's name and country flag.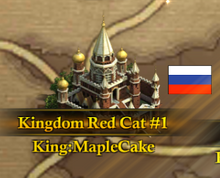 Ad blocker interference detected!
Wikia is a free-to-use site that makes money from advertising. We have a modified experience for viewers using ad blockers

Wikia is not accessible if you've made further modifications. Remove the custom ad blocker rule(s) and the page will load as expected.